Answering the Cry for Freedom: Stories of African Americans and the American Revolutionn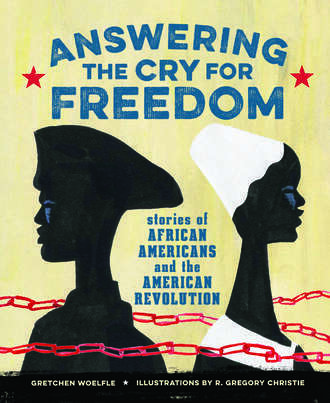 Thirteen little-known African American preachers, writers, soldiers, organizers, and enslaved workers. Thirteen men and women inspired and inflamed by the radical spirit of their turbulent times. Some escaped to freedom with the British. Others fought for freedom and equality at home. These are their stories.
This engaging book provides a chance for young readers to learn about the death-defying attempts of black Americans to gain the inalienable rights promised in the Declaration of Independence. By stepping into the shoes of thirteen men and women—stand-ins for the fifth of the population left out of most textbooks—readers can appreciate how the American Revolution rattled the chains of slavery and expanded the boundaries of freedom beyond the Founding Fathers' intentions. This book belongs in the library of every elementary and middle school.
-- Gary B. Nash, director emeritus, National Center for History in the Schools and distinguished research professor, Department of History, UCLA

KIRKUS
Biographical sketches tell of 13 remarkable black men and women, including a double agent, a traveling female preacher, an admired poet, and a successful whaling captain. While some may be known to readers, most will not. Information on John Kizell, for example, has only recently been uncovered. Many of their civic or military accomplishments are impressive, making it unclear why Sally Hemings is among the 13; although her story is notable, her primary contribution is ensuring the freedom of her children. Divided into four parts, the book moves from three men who fought in the Revolution to three slaves in Boston, three female slaves in the South, and, finally, four men and women who were born or became free and went on to advocate for others' rights. Almost all overcame great odds to influence their world. Elizabeth Freeman sued for and won her freedom from slavery in 1781 Massachusetts. Prince Hall, a former slave, organized the first branch of black Freemasons, of which there are now 300,000 in lodges named after him. Richard Allen bought his freedom for $2,000, received the first copyright granted to an African-American, and founded the African Methodist Episcopal Church. The well-told stories, illustrated with striking silhouettes by Christie, can be read independently of one another. An open design, pull-quotes, and frequent headings add to the appeal. Accessible, inspiring accounts of courageous men and women. (notes, timelines, bibliography, index) (Collective biography. 9-13)

BOOKLIST
Liberty is a difficult concept to define and becomes even more complex in the context of American history. Woelfle, an award-winning author of nonfiction, examines the challenges and contradictions of life for African Americans in the founding era—a time period supposedly defined by its quest for freedom. Short biographies of 13 eighteenth-century figures fill thematic sections on soldiers, women, and activists. The people included range from the obscure, such as patriot sailor Paul Cuffe, to the infamous, such as Sally Hemings, slave and mother of Thomas Jefferson's children. Using these biographies as archetypes, Woelfle asserts that African Americans were not the one-dimensional slave figures so often painted in history books, but rather represented a range of vocations and political philosophies. This outstanding book is not just a history of African Americans, but rather an honest look at the complicated, often hypocritical definitions that Americans have ascribed to the idea of liberty from our earliest days.

SCHOOL LIBRARY CONNECTION
This book features 13 inspirational biographies of African Americans who overcame tremendous obstacles in their quest for liberation during the American Revolution. Includes biographies of Boston King, Agrippa Hall, James Armistead Lafayette, Phillis Wheatley, Mary Perth, Ona Judge, and seven more. Students will easily identify with the challenges faced by these notables, especially since many were in their teens or younger at the time of the war. Teachers will love the extensively researched text, and librarians will love the in-text quotes, poems, journal excerpts, letters, epitaphs, testimonies, and other primary source content. Skillfully written by multiple award-winning author, Woelfle, and illustrated with pen and ink drawings by award-winning illustrator, Christie, this book supports fifth grade Common Core social studies standards and is ideally suited for all middle grades studying early American history, civil rights, and government. Bibliography. Index. Source Notes. Timeline. Websites. HIGHLY RECOMMENDED

SCHOOL LIBRARY JOURNAL
Gr 4-9–There is a dearth of resources available to students interested in the history and inner lives of free and enslaved African Americans in early U.S. history. This informational text uncovers a bit of that lost history through accounts and stories of 13 individuals who lived through or fought in the Revolutionary War while grappling with their own lack of freedom and autonomy. Through the use of personal testimonies, Woelfle presents an approachable but detailed narrative. Pull quotes in bold and simple but telling illustrations allow the work to flow like a storybook. Individuals profiled include Boston King, Agrippa Hull, James Armistead Lafayette, Phillis Wheatley, Elizabeth "Mumbet" Freeman, Prince Hall, Mary Perth, Ona Judge, Sally Hemings, Paul Cuffe, John Kizell, Richard Allen, and Jarena Lee. Each short profile examines the subject's family history, personal life, and fight for freedom. In the back matter, each individual covered receives an author's note, time line, bibliography, and source notes—encouraging readers to go further in their own exploration. VERDICT Researchers and history fans alike will surely appreciate this work that brings attention to a missing part of U.S. history. Recommended for libraries and classrooms that serve middle school students.
ANSWERING THE CRY_ED GUIDE.pdf
Answering the Cry for Freedom "tells the story of a hidden
chapter of the American Revolution" (page 7). As Patriots in
the colonies battled the British for America's freedom, the
thirteen people whose lives are featured in this history took
risks, faced hardships, and won victories in their own personal
struggles for liberation. In this book, you and your students
will meet men and women, slaves and free African Americans,
northerners and southerners, farmers, a sea captain, preachers,
and a poet—who all believed that people should be free and
equal, and who dedicated their lives to gaining freedom and
equality for themselves and other blacks at the very start of
our nation.
Including their stories in your study of American history
will expand and enrich your students' understanding of the
events and the times. They will discover that the ideals on
which the nation was created were not universally applied,
and that often, many people had to struggle to widen the
vision of our Founding Fathers.
In this narrative you'll find connections to many curriculum
areas: social studies, history, geography, art, reading, writing,
vocabulary, research, critical thinking, and speaking and
listening. This guide offers activities, discussions, and questions
to help you implement those connections and reach Common
Core standards.