Write On, Mercy! The Secret Life of Mercy Otis Warren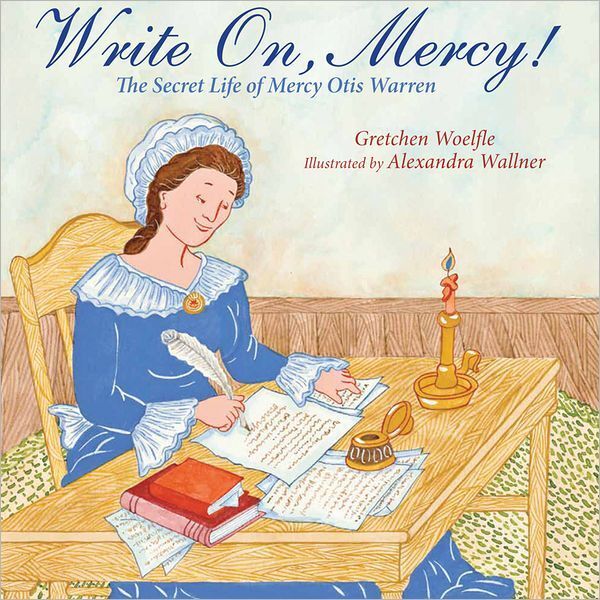 Bank Street Best Children's Books of the Year
California Reading Association Eureka! Honor Award for Nonfiction
KIRKUS
Move over, Thomas Paine! Revolutionary War writer and activist finds fame! First biography for young readers published!
Mercy Otis of colonial Massachusetts did not attend college but studied at home with her father's encouragement. After her marriage to James Warren, she began writing and joined the political discussions about breaking ties with Great Britain that were held in her home. As open rebellion grew closer, she wrote political plays, albeit unsigned. When fighting broke out, Warren began an ambitious project—a history of the American Revolution, concentrating on "radical thoughts and bold actions." It was published in 1805 under her name. Woelfle's lively and informative style keeps the narrative flowing. Wallner's gouache paintings are colorful and spirited, with a good mix of full-page scenes and close-ups of prominent figures. In a nice touch, Mercy Otis Warren's Copley portrait hanging in the Boston Museum of Fine Arts is reproduced. Decorative inserts excerpt her writings and those of her father and her husband. It is usually Abigail Adams who gets the nod whenever women of colonial and revolutionary-era America are mentioned, so this title certainly fills a niche.

BOOKLIST
In choosing writer Mercy Otis Warren (1728–1814) as her subject, Woelfle offers young readers a view of the colonial period that veers away from typical battle-driven, male-dominated accounts. In a quieter narrative voice than Laurie Halse Anderson's group biography, Independent Dames (2011), this starts with the details that are most meaningful to children, such as Warren's equal education with her brother, Jemmy, and her strong bond with him. Mercy, a dynamo of energy, wrote both journalistic pieces of
advocacy and a three-volume history of the Revolution. Wallner's illustrations use the opacity of gouache to foreground Warren's domestic realities. The faces are lightly detailed (and Warren's face ages appropriately), but it's the clothing, the furniture, and the writing equipment that stand out against lighter backgrounds. The pages also include examples of Warren's writings, not easily available otherwise, and additional research leads conclude.

PUBLISHERS WEEKLY
Growing up on Cape Cod, Mercy Otis (1728–1814) preferred listening to her father's stories about his work as a member of the colonial House of Representatives to cooking or sewing. Writing poetry and "fiery pamphlets about 'natural rights' for men and women," Warren was active throughout the Revolutionary War, attending meetings for patriots who were planning the Continental Congress, as well as writing political plays and later the History of the Rise, Progress, and Termination of the American Revolution. Woelfle's sturdy writing outlines the course of Warren's life as a wife, mother, and activist. Wallner's bright gouache illustrations have an unadorned style well-suited to the period. End pages include a time line of Warren's life, a note about the "separate spheres of influence" of men and women at the time, and a painting of Warren by John Singleton Copley. Ages 8–up.
SCHOOL LIBRARY JOURNAL
Gr 2-5–This picture-book biography tells Warren's story and shows the state of women's education and opportunities in Colonial and Revolutionary America. Born to a relatively progressive family, a fact frequently noted, Warren was educated at home and grew up with an interest in politics and in writing. As an adult, she became involved in politics through her writing, publishing political poems, essays, and, finally, a famous history of the American Revolution. Painterly images in soft colors dominate the book, and all of the pictures focus primarily on people, such as Warren herself, her family, her husband, and fellow writers and revolutionaries. Quotes from her writings and those of her contemporaries are highlighted throughout. This is a good introduction to one woman's life, and the place of her life in history, supplemented by quite a bit of back matter. Great for reports and background information on an important but oft-overlooked early American figure.
CHILDREN'S LITERATURE JOURNAL
Although young readers may not recognize the name Mercy Otis Warren, she is brought to life in this brief illustrated biography by an author and illustrator who are both veterans in publishing historically based books for young readers. Drawn in large part from primary source materials, including the letters of Mercy Otis Warren, this story recounts the work of an intelligent educated woman who sought to make a difference when women were still effectively barred from participation in political life. Encouraged by her father and later her husband, Mercy read widely and was passionate about the revolutionary politics in which the men of her family were involved during the latter part of the 18th century. She also wrote and published poems and plays which appeared anonymously in broadsheets and newspapers of the time; eventually she completed a three-volume history of the Revolutionary War which was published in 1805—finally under her own name! Excerpts from her writings are interspersed with the storyline. An author's note about Mercy, a copy of her portrait by renowned painter John Singleton Copley, a timeline and an excellent list of readings and sources follow the text. This would be a very accessible accompaniment to discussions about the war, about the evolution of women's rights in the United States and even about the importance of civic participation.
BOOKSHELF, CAPE COD ONLINE
Mercy Otis Warren may be one of our own here on the Cape, but Gretchen Woelfle of Los Angeles, who just happens to love history, has captured Warren's life here in pre-Revolutionary War times perfectly. Warren grew up in a traditional family, where women were expected to maintain the home and raise the children, but Warren wanted to be educated and she attained that, too. A politically savvy writer who married patriot James Warren, Mercy wrote poetry, plays and political pieces, eventually including a three volume history of the American Revolution. Read this book aloud to the whole family, then take a drive to the Barnstable Courthouse on Route 6A, so everyone can see for themselves this woman who was in the thick of the revolution and left us indelible portraits of those times.