Growing Up
I grew up in Dunkirk, New York, a small town on Lake Erie. Many of my childhood memories relate to the weather. Long cold winters with heaps of snow. Sliding down the ice mounds on Lake Erie on flying saucers. Being oh-so-happy when spring came, and I didn't have to wear an itchy snowsuit anymore. Diving through the waves on Lake Erie during the hot summers. Eating fresh chives and strawberries from my grandparents' garden. Watching the farmers' trucks roll into town filled with Concord grapes just as school was starting in the fall, and snitching a bunch from the trucks. The whole town smelling of grapes as they were made into juice and jam.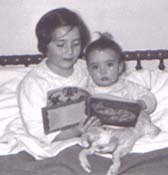 I read a lot when I was young. Here's a picture of me reading Rudolph the Rednosed Reindeer to my sister, Christine. Every summer I joined the library reading club, and one year the librarian questioned me every day when I returned to take out four new books. She didn't believe I could read that much. I was so insulted!

I majored in English at the University of California at Berkeley. Then I did editorial work and magazine writing in London, England, New England, the Midwest and Los Angeles California. I also wrote scripts for educational interactive multimedia programs. By this time I was married and had two children, and I began reading to them. It was a happy/sad day for me when Cleo and Alice learned to read by themselves, because they wanted to read their own books, not listen to me. They have always been very independent!

Becoming A Children's Writer
One Christmas I received a tape of family stories from long-ago Maine, told by Granny Erskine, my grandmother-in-law. Many sounded like good tales for children. It took me awhile to learn how to create a good story – not just record amusing events. But eventually I began to sell my stories to magazines and book publishers.

I went back to school for a Master of Fine Arts in Writing for Children from Vermont College. Not only did I learn a lot about writing, but I made many clever writer friends. We call ourselves the Hive and have kept in touch by email for more than twenty years! I love writing for children. They are so open to new ideas, and they like to read their books -- perhaps my books -- over and over again.


When I'm not traveling around the world looking for stories, I live in Los Angeles, California.

I love to visit schools and libraries and talk about how about the fun and challenge of being a writer. You can email me about school visits, my books, your stories, your cats, or anything else that comes to mind. I'd be happy to hear from you.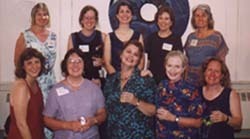 A Few More Quick Facts About Me
• I've got a little farm at my home in Los Angeles, with seven fruit trees, blackberries, passion fruit, lots of vegetables, and a tree drooping with dozens of avocados.
• My front garden dazzles with golden California poppies every spring.
• I once lived in a little thatched hut on a tiny island in the middle of the Pacific Ocean.
• I love to ride my bicycle - at home and around the world. I've cycled in Cuba, Vietnam, India, Sri Lanka, England, and Spain.
• My favorite sport is soccer and my favorite team is Chelsea Football Club.
• My son and daughter are grown up, and I've got three grandchildren to read stories to.