A Take-Charge Girl Blazes A Trail to Congress: The Story of Jeannette Rankin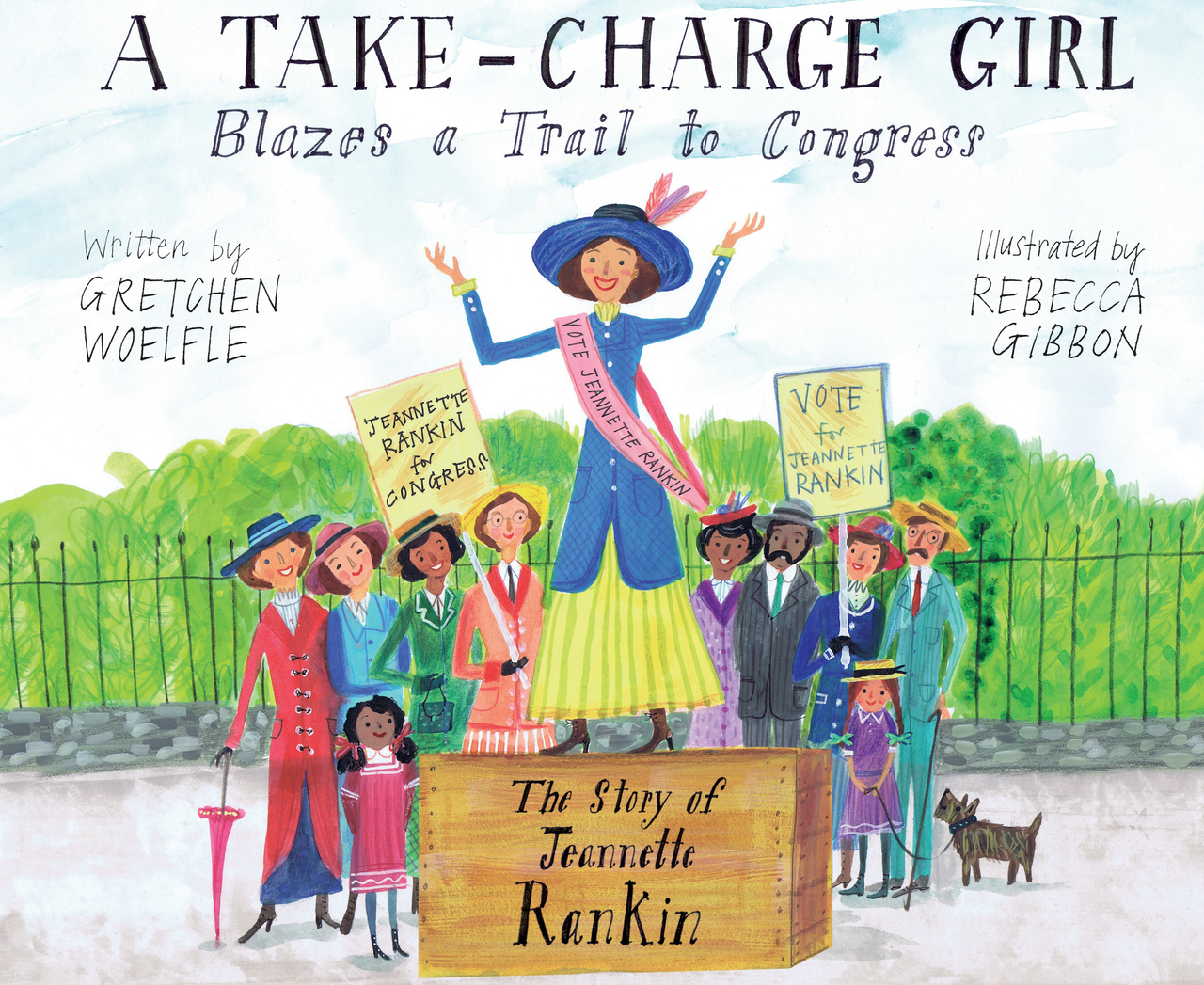 Publisher ‏ : ‎ Calkins Creek (October 17, 2023)
Language ‏ : ‎ English
Hardcover ‏ : ‎ 96 pages
ISBN-10 ‏ : ‎ 163592331X
ISBN-13 ‏ : ‎ 978-1635923315
Reading age ‏ : ‎ 9 - 12 years
Her Big Ideas took her far from home in Montana. But was her Biggest Idea too big?
**********
BOOKLIST (starred review)
At a time when voting rights are being attacked and suppressed, learning about the early
struggles for women's suffrage in our country can be inspiring. This lively biography showcases
one tireless activist, Jeannette Rankin from Montana, who became the first U.S. congresswoman
in 1916 and whose fight for all women to have the right to vote was key in ratifying the
Nineteenth Amendment in 1920. Rankin's story is made relatable to young readers through
Woelfle's focus on how "take-charge" she was, starting as a child. She grew up on a Montana
ranch at the end of the nineteenth century, riding horses, camping, taking care of her younger
siblings, and even sewing up a life-threatening gash on a horse. The story expands into Rankin's
social work, her belief that congressmen largely ignored the plight of children and the poor, and
her belief that real change could be brought about only by gaining women suffrage. The section
on Rankin's campaign for Congress, in which she crisscrossed 6,000 miles of Montana by train
and horse, is riveting. The illustrations, done in colored pencils and acrylic inks, jauntily convey
period detail. An author's note, time line, and suggestions for further reading round things out.
KIRKUS REVIEWS
A picture-book biography of the first woman elected to the U.S. Congress.
Jeannette Rankin (1880-1973) may not be a household name today, but Woelfle and Gibbon's book seeks to change that. Although some may pause at the use of the word girl in the title to refer to the first U.S. congresswoman, Woelfle wisely begins the narrative in Rankin's youth, then leads into her suffragist activism and her political career. The text as a whole grounds Rankin's ambitions in her determination to advocate for children, and such framing will likely make the book more accessible to young readers, as will the energetic illustrations. Gibbon's acrylic ink and colored pencil pictures have a homespun, folk-art quality to them, offering readers depictions of Rankin's early life in Montana (the state she eventually represented), her stints in San Francisco and New York, and, eventually, her time in Washington, D.C. Robust backmatter with an author's note, timeline, and bibliography fleshes out the necessarily spare account of Rankin's life, particularly in its documentation of her pacifist voting record in Congress and her peace activism during the decades after her final term.
A yes vote for this title's inclusion on children's bookshelves
PUBLISHERS WEEKLY
"Take-charge girl" Jeannette Rankin (1880–1973) inspires in this lively, quote-filled picture book about her journey to become the first U.S. congresswoman. Early scenes of Rankin's Montana upbringing highlight her can-do attitude, leading into descriptions of her later charitable work in San Francisco and New York City, where the hardships she witnesses galvanize her to campaign for women's suffrage and to run for office. Woefle narrates with a conversational tone that makes Rankin feel accessible ("But what if… Montana elected a CONGRESSWOMAN?!"). Rankin exudes confidence in quaint acrylic ink and colored pencil artwork that portrays doll-like figures with various skin tones, though the text does not address racial disparities around the right to vote. A concluding scene of the politician striding to the Capitol accentuates the boundless energy stressed by text: "But she wasn't there for smiles and handshakes./ She had work to do!" An author's note, timeline, bibliography included. Ages 7–10. (Feb.)